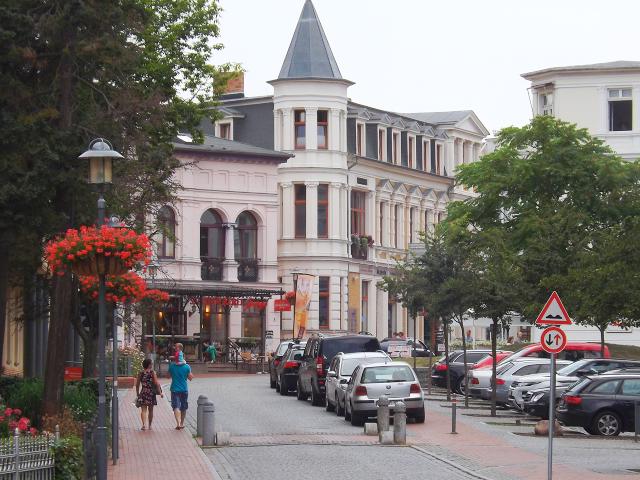 At the very begining of the 19th century Heringsdorf used to be a small fishing village before it became a popular seaside resort. Its name is a combination of two German words "hering" and "dorf" i.e. herring-village in English. Heringsdorf used to be popular with many aristocrats, bourgeoisie, artists and urban vacationers until the end of WWII. Some of the most distinguished guests that spent holidays in Heringsdorf were King Frederick William IV of Prussia, Kaiser Wilhelm I, Kaiser Wilhelm II, Thomas Mann, Kurt Tucholsky, Johann Strauss, Theodor Fontane, Engelbert Humperdinck, Lyonel Feininger, Leo Tolstoy, Maxim Gorky, and many others.

Heringsdorf has many 19th century seaside villas, buildings and mansions in characteristic Baderarchitektur style that give it a unique old world charm, and many modern villas and hotels.

The villa in which Kaiser Wilhelm I stayed on his visits to Heringsdorf has become one of the town's most valued landmarks.


19th century villa in which Kaiser Wilhelm I stayed. 
See it @ Google Maps.



Villa Fontane, a 19th century villa in which Theodor Fontane stayed. 



Villa Oppenheim at Delbrückstraße 11 in Heringsdorf. 
A fine examples of 19th-century architecture on the island.
L. Feininger often used this villa as a motif for his watercolors and woodcuts. 



Example of Baderarchitektur design style in Heringsdorf 



Heringsdorf pier is 508 meters long, and it is the longest pier in continental Europe. 




In 2005, Heringsdorf took over the administration of Ahlbeck and Bansin, and through a travel advertising campaign that ran until 2006 Heringsdorf became better known as "Dreikaiserbader" i.e. Three Imperial Spas. The three towns that comprise Heringsdorf municipality are often colloquially called the "bathtub of Berlin". But before WWII that colloquial name also applied to Swinoujscie (Swinemunde), the first of the Imperial Spas.























A boardwalk to the Imperial beach in Heringsdorf 



Maxim Gorky used to live in Villa "Irmgard" when he was in exile in Prussia. 
Now, it's been turned into the Maxim Gorky Museum. 
Maxim-Gorki-Straße 13, Heringsdorf